The International Data Corporation (IDC) has released their report on the Indian PC market for Q4 2021 and the entire 2021 year. The market witnessed record number of shipments at 14.8 million units during 2021, and growing 44.5% YoY. The top 5 manufacturers for the year were HP, Dell, Lenovo, Acer and Asus.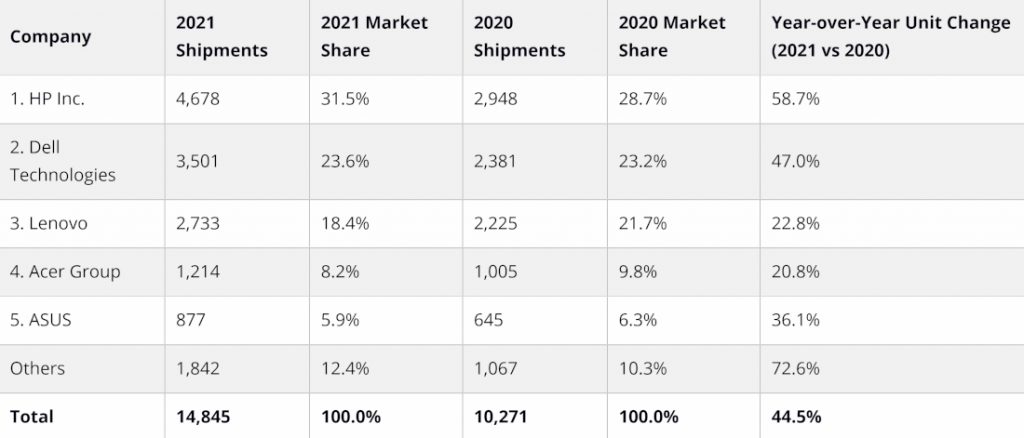 The notebook category in particular shipped 11.6 million units, while the desktop segment grew 30%. HP led the market with 31.5% share after growing 58.7% YoY in 2021. In Q4 2021 also HP maintained their lead, shipping 1.3 million units.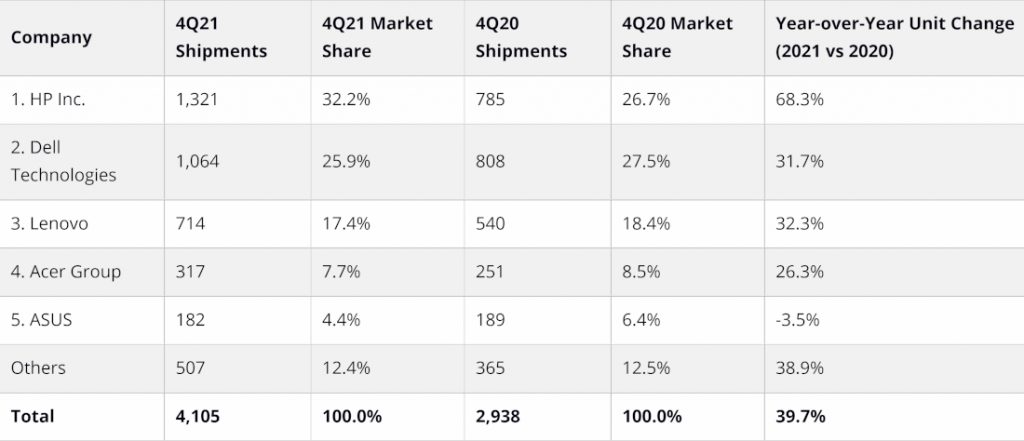 Dell came in 2nd place with a market share of 23.6% share and 47% YoY growth in 2021. In Q4 2021, the company shipped a little over a million units and enjoyed the lead in the enterprise segment with 38% market share. Lenovo maintained its 3rd place with a market share of 17.4% and 18.4% in 4Q21 and 2021 respectively. Acer came in 4th place with 8.2% market share and ASUS came in 5th place with 5.9% market share in 2021.
Commenting on the market, Bharath Shenoy, Senior Market Analyst, PC Devices, IDC India said:
As schools and colleges continued to function remotely for a second consecutive year, the demand for a computing device became extremely important for students. Some of the students who were earlier using smartphones/tablets for their virtual classes opted for a PC for obvious benefits such as bigger screen and ease of usage. The consumer segment witnessed strong growth despite facing supply disruptions across the year. While the incumbent brands managed to get better allocations and ship bigger volumes of PCs, new brands that entered Indian market in the past few years struggled to get timely supplies, thereby struggling to fully capitalize on the market opportunity.