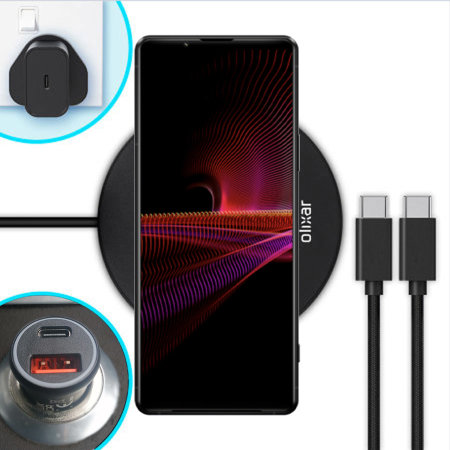 Sony has finally released a flagship phone with wireless charging included, so we thought we would show you 5 of the best Sony Xperia 1 IV wireless chargers.
Let's start off with why you might want to wireless charge your Sony Xperia 1 IV in the first place. The main reason I wirelessly charge my phone is for convenience, although the wireless charging stand or pad is plugged in you can just leave it plugged in and just place your phone on it each time you need some more power.
This means when you go to bed you can just place your phone down and then not have to worry about plugging anything in, it also means you can charge iPhones and Android phones with the same charger.
---
Olixar Complete Fast-Charging Starter Pack – For Sony Xperia 1 IV
The first on this list is a complete starter pack for the Sony Xperia 1 IV, this pack includes not only a wireless charging mat but also a wall plug, car charger and USB-C to USB-C cable, this is handy as the Sony Xperia 1 IV only comes with the phone itself.
This 15W charger is nice and slim and thankfully only has a small LED to tell you that it's charging as some other chargers have a large light which is not ideal when placed next to your bed.
Nomad Base Station Pro Trio 3-in-1 Fast Wireless Charging Pad – Black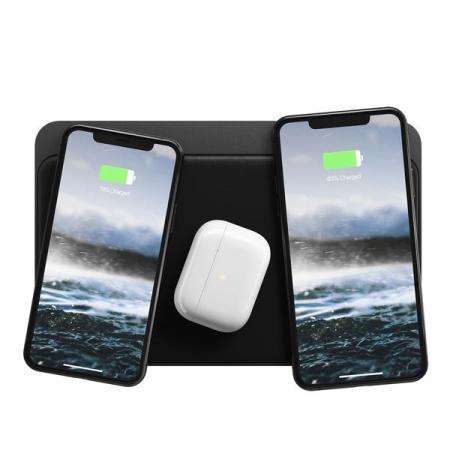 The next wireless charger is probably my favourite however, I will warn you that it is also pretty expensive. Nomad's Base Station Pro can charge 3 devices at once, however unlike many other wireless chargers where you have to place your phone perfectly centred, this one you can just place them almost anywhere on the leather mat and it'll start charging.
The reason I like this wireless charger is that it not only looks nice and would fit in your home nicely but it could just act as a lovely place to charge all your devices at once, perfect if you have multiple phones and wireless earbuds also.
Baseus Hermit 2-in-1 Desktop Fan with Wireless Charging – White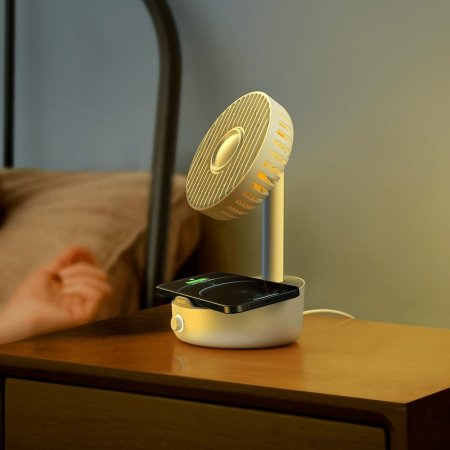 Next up we have the perfect bedside accessory for this summer. The Baseus fan with wireless charger aims to keep you cool while also powering up your device. Now the wireless charger is not massively powerful at 10W, however this should mean that it will look after your phone battery that little bit more.
The fan on the other hand will move around the circulate the air in the room and give you some much-needed cooling in the summer months.
Olixar 10W Wireless Charging Stand With Cooling Fan – For Sony Xperia 1 IV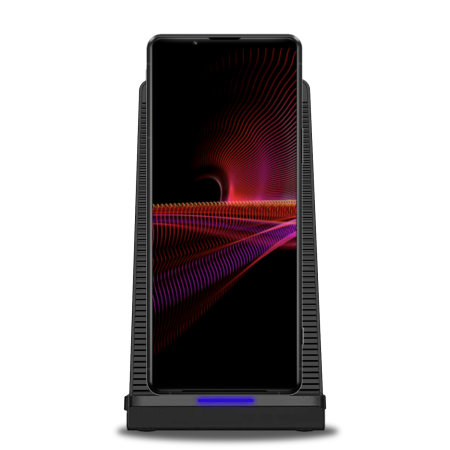 The next wireless charger also has a fan, however, this one is designed to keep your phone cool while charging. What I really like about this one is that it a standing design, this means that you can easily see notifications and calls when they come in, perfect for the office then.
If you would like to use this at night you can also turn the fan off so you won't hear it, however, this would just mean your phone would get a little warm while charging.
Official Samsung Foldable Fast Wireless Charger Stand 9W – Black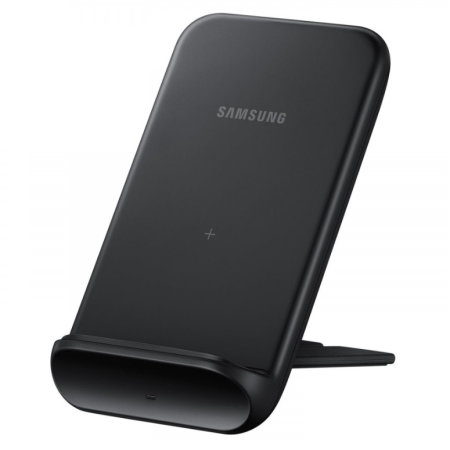 Last up we have a wireless charger from Samsung, this is also in a stand design but can actually be folded flat as well. I think this would suit someone that is travelling often as they can easily fold it flat to fit into their bag, then clip it back together once they are at their destination.
As you would expect from Samsung, this charger is really high quality and would not look out of place in your home.
---
Thanks for reading about these Sony Xperia 1 IV wireless chargers, make sure you check out the rest on the Mobile Fun store. If you have not protected your device yet also have a look at the Sony Xperia 1 IV cases and Sony Xperia 1 IV screen protectors.