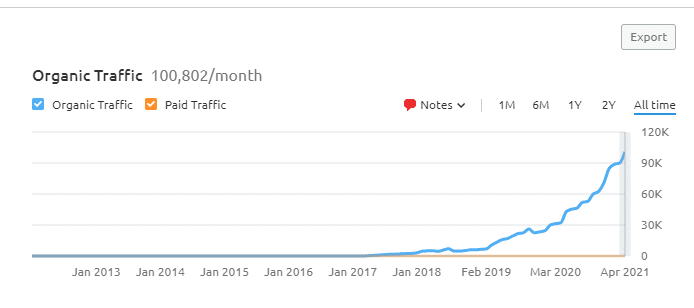 I've been blogging for almost 5 years now and my blog has finally reached +100 000 visitors per month last year.
Of course, I don't attribute most of my success to the laptop I used when I started. In fact, that was a somewhat okay 17" HP laptop.
There are a LOT of factors that play a role in making a succesful blog like niche choice, content quality, SEO tactics, competition, you know the rest of the story..
But imo 95% of your success in this business will be down to one thing :
Producing LOTS of High quality content.
I believe you can be succesful in ANY niche of your choice as long as you outdo your competition by producing high quality content over and over and over. The niche I chose was very competitive which is technology and computers.
"I don't need you to flex your success, I just want a laptop for blogging. What does this have to do with the best laptop for blogging anyway?"
It actually has to do A LOT with the best laptop for blogging.
Think about it.
Producing good content requires TONS of research which includes reading tons of articles and watching a lot of videos.
Succesful posts usually require the use of Adobe Illustrator/Photoshop to produce unique and useful pictures/infographics.
Don't forget your most useful posts (the ones that gets most shares like this one) might require DAYS or even WEEKs to finish.
Which means you need to tailor your laptop with those tasks in mind and with a focus in making those tasks much less painful to work with.
Computer Hardware Specs for Blogging
In summary, you need to focus on making your workspace as comfortable as possible with a special focus on display.
That was paramount for me when I started. 
Wait, what about speed? CPU, RAM, Storage? Don't I need something fast and powerful to make my workflow flow faster?
You are right on the money.
Obviously, going for a cheap pre-2017 laptop with low RAM memory, lots of bloatware or an outdated CPU or even worse: bad Wi-Fi reception MUST be avoided.
If not, you will be more likely to have your web browser freeze all the sudden (usually because your laptop couldn't keep up with the 50 browsing tabs open you had open)….
And in the worst case scenario…
Nor you or  your blogging plattorm saved your your progress because your WiFi card also sucks!
Yup, been there done that. I almost broke my laptop in two pieces because I had been working on that post for almost the entire day.
If you want to prevent that from happening you don't need to spend more than 600$ though.
My Recommended Specs for Blogging & Bloggers
In summary, you need to focus less on aesthetics and power and more on display/keyboard quality
Here are some tips. (I put more details at the end of this post).
CPU
Avoid anything with the labels: Pentium, Celeron, Atom/Arm, AMD E2, AMD A9, A6, MediaTek unless you are going to buy a ChromeBook. 
Strongly recommended: Intel Core i3 CPUs from the 8th gen upwards and AMD Ryzen 3 Chips. 
Might be useful: Core i5 Chips and AMD Ryzen 5 chips might be useful if you want to do some heavy photoshop+light video editing a walk in the park.
Unlikely needed: Core i7/AMD Ryzen 7 chips and up are only useful for heavy video editors, most bloggers rely on simple cuts/transitions.
RAM
2-4GB is fine for ChromeBook/Linux/Windows 10 in S mode/MAC OSX set ups.
8GB is a must for  Windows 10 Home.
16GB is wasted money UNLESS you're going to do some pretty hardcore video editing.
Display
Size: get the biggest one you can handle. Obviously, if you're going to be on the move, you can't go for a 17".
Resolution: This is the most crucial part of the display. At least a FHD resolution, the higher the better. Pair that with a 17" display you'd have an insane amount of free space to multitask. A FHD/Retina Display will also make a 13" display have enough space for you to work with.
Storage
Size isn't important. The type of storage is. Now that HDDs are almost obselete, pick an PCIe NVMe SSD if you can. It will make your laptop soar through the sky and perform tasks several seconds faster which will add up to minutes then less hours spent blogging. 

What about  GPU, WiFi Card, battery?
If you follow my advice for CPU, you'll automatically get a recent WiFI Card and Integrated GPU with it AND a +8 hour battery life. For more details chek the last section.
Besides, most of the people reading this have been blogging since before blogging existed and I know are super anxious to get their brand-new laptop to keep blogging.
Not all bloggers are the same: some us love gigantic screens, others ultra portable laptops with a long battery life and very few of us may need a bit more power to throw in some video editing.
So in this short list, I'll show you a mix of those features having in mind the main features we went over above.
---
Best Laptop For Blogging – Best Display
  AMD Ryzen 3, 5, 7
  8-12GB RAM DDR4
   AMD Radeon RX Vega 
  256-512GB PCIe NVMe
  17" full HD TN
  5.1lbs
  6 hours
  Reader Multi-format card reader (SD/SDHC/SDXC) Networking  1 x COMBO audio jack 1 x Type-C USB 3.0 (USB 3.1 Gen 1) 1 x USB 3.0 port(s) Type A 2 x USB 2.0 port(s) Type A 1 x HDMI 1 x micro SD card
  (802.11 ac) and Bluetooth 4.1Interface

Like I said, my advice for you is to focus on display and keyboard since these two features will have the biggest impact in your quest to find/produce high quality content. 
Display:
Now this laptop has a 17" display with a FHD resolution, not many laptops have this duo. Usually, they will either have a 17" with HD or HD+ resolution and there's nothing wrong with those features however a FHD (1920×1024) screen will add even more screen space area by reducing the size of every object in the screen.
Check this out: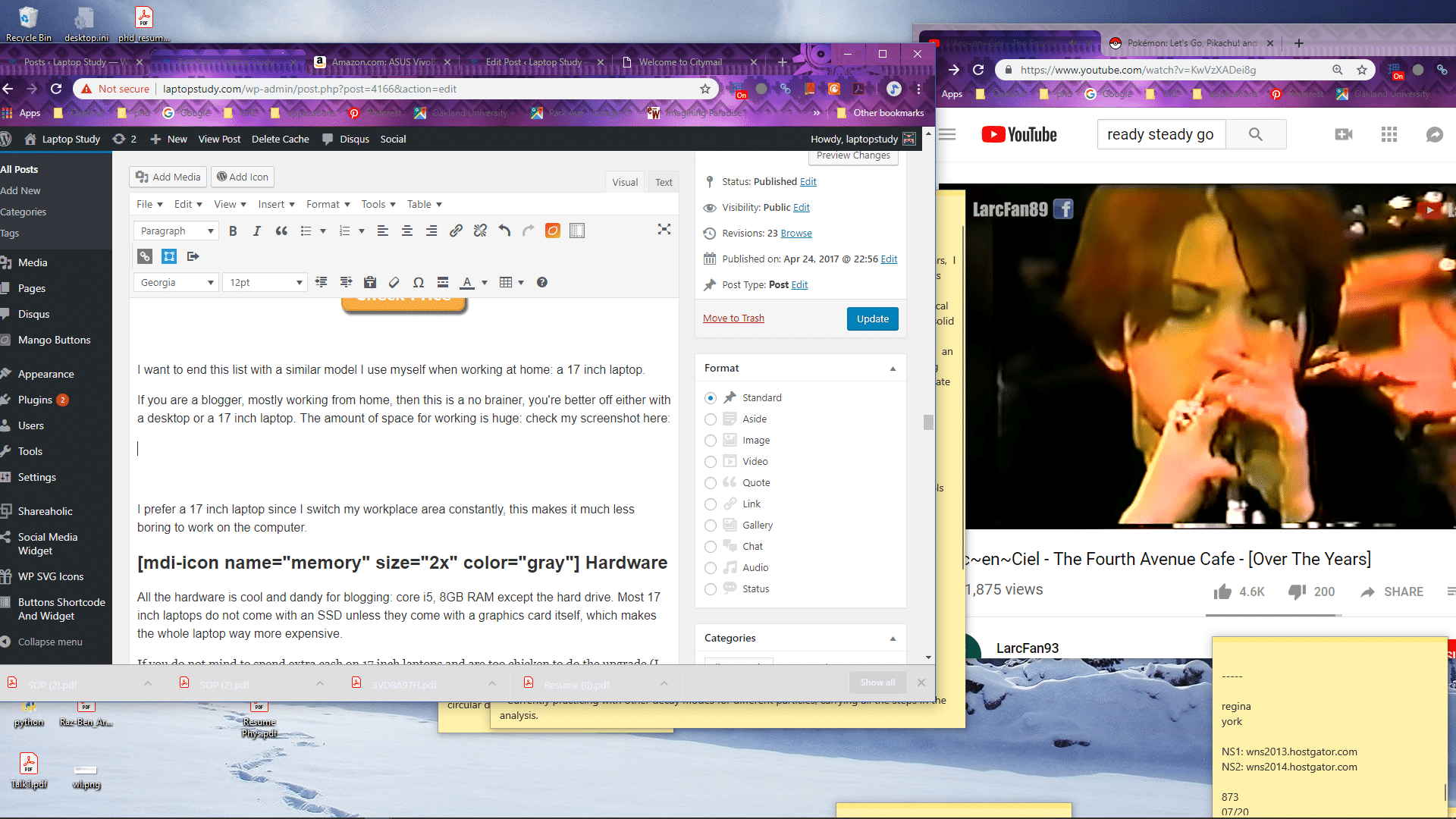 No, this is not a desktop monitor, you can click on the screen and see that this is 1920×1080(FHD) image.
As you can see you can easily have a video next to a text editor and even have some pace left at the bottom for some notes.
Obviously, there are screens with higher resolutions like the MacBooks (which we'll go over soon) and the 4k gaming rigs.
However, those things not only may have unncessary features (like a dedicated GPU, way too much RAM and CPU speed) but be way too expensive (1000-3000$) and well blogging isn't a luxurious job as we all know (at least when you start).
Keyboard:
Most laptops have okay keyboards, 13" laptops usually don't have great keyboards unless you step into +600$ territory.
17" laptops on the other hand, regardless of the price, will usually have good keyboards and this model is no exception. This is mostly due because they're usually thick (therefore have enough enough space to allow long travel distance) and huge (this allows to fit in a full sized keyboard).
What about speed?
What determines "speed", for most people, is CPU and RAM. This model comes in 3 CPU flavors: Ryzen 3, 5 and 7.  For someone that's not going to game or do anything intensive in graphics/3D, yes, that's you. Ryzen 3 with 8GB chips will do just fine. If you want even more speed , I will go no further than Ryzen 5 chips with 8GB of RAM. Either of those configurations will let you photo edit, have 50 web tabs open, use Illustrator, edit videos,etc.
---
  1.6-2.48 GHz Intel Celeron N3060
  4GB RAM DDR3L
   Intel HD
  32 GB eMMC
  11" HD Anti Glare
  2.2lbs
  10 hours
  Chrome OS

There's one problem with a 17" laptop though: it's heavy and big. Definitely not something that's easy to carry around and not very comfortable for someone who travels a lot or moves around a lot. 
I had no issues with portability because I stayed mostly at home and my laptop did not move from the same old rusty desk unless I had to clean it.
ChromeBooks to the Rescue!
I also had a ChromeBook similar to this model which I used when I had to travel by car somewhere very far or when I had to visit my grandparents who were 8 hours way. When I started I definitely did not want to waste any time at all, I tried producing/writing/researching content when I had the chance. 
Weight & Battery Life:
A ChromeBook will be your 2nd best friend for those purposes. Not only are these things ultra-lightweight (2.2lb on average) and small but they have INSANE battery lives. This one claims to have 10 hours and that's no bluff I had the older version of this model and it was definitely around that number.
Keyboard & Display:
One cool thing about chromebooks is that although they don't have a full sized keyboard, they are VERY comfortable to type with. ChromeBooks don't need much hardware/power to function, so there is a LOT of space to fit in a decent keyboard. 
In fact, my chromebook's keyboard had more tactile feedback than my 17" laptop. 
The only real issue with a ChromeBook is the display , they're usually very small. So you'll be very limited in how much multitasking you can do.
I'd advice to use a ChromeBook for typing/writing purposes and use either your 17" laptop/desktop for the research/multimedia input and so on.
If your posts are mainly powered by your expertise and you don't need to edit/research a topic, then you might be okay with just a ChromeBook.
Speed/Power:
I know I said you should avoid CPUs like this one but I also said and I quote "except for ChromeBooks". The reason is that ChromeBooks don't have Windows 10 Home or any other Operating System that consumes a lot of resources. So a low end CPU will be fine for ChromeBooks or Linux systems (which you can also install in a ChromeBook).
Fear not, you can edit photos/videos and have all the programs/software you need with Chrome OS/Linux systems too.
If you don't find this particular model available near your region, feel free to check other models in this link:
ASUS 2021 ChromeBook
. Techinically, you could grab any ChromeBook you'd like in fact but I've had a great experience with ASUS ChromeBooks, the one I had lasted me about 7 years
---
Best Mac Laptop For Blogging
  Apple M1 Chip
  8GB RAM DDR4
  Apple 8-core GPU
  256-2TBGB Flash Storage SSD
  13.3" Retina Resolution/True Color
  2.7lb
  12 hours
    No DVD Drive

If you're one of those people who just want ONE laptop, then a premium laptop like a MacBook can give you the best of both worlds: the long battery life/portability of a ChromeBook AND the spacious  screen/keyboard quality of a 17" laptop.
Of course, the main issue with these are the prices but there are a few workarounds we'll talk about soon. On the other hand,  if you're already making 3 figure numbers/month, it might not be such a bad idea to invest some of that cash on a MacBook to replace your ChromeBook, I did.
New MacBook Air, New MacBook Pro and the Older Models
Now…
There are A LOT of MacBooks to choose from. 
Older MacBook Air Models:
If you're short on cash and still want a replacement to your ChromeBook, you may want to consider the older models which have a 11-13" screen with a 10-13 hour battery life. You can find them in this link. They're also a great choice if you're starting your blogging career and short on cash.
New 16" MacBook Pro:
The New MacBook Pro is possibly the best laptop for blogging there is. It's got a great battery life, it's portable, it's got a huge display with a RETINA resolution (this will give you even more space than a 17" with FHD resolution).
But I decided not to feature it in this list or this post because it's very expensive. If you're a blogger making a lot of cash, feel free to check it out.
New MacBook Air with M1 Chip:
Instead I decided to feature the New MacBook Air because it's both somewhat affordable AND has a decent 13" with retina resolution and all the qualities we are looking for as a blogger: battery, keyboard, portability.
What's more the New MacBook Air has the M1 Chip which is way way faster than most CPU you see on consumer laptops. There are several benchmark studies proving it's superiority even over the 10th generation Intel CPUs by a long long shot.
Pair that with 8GB of RAM and editing videos/using photoshop/having100 tabs open with minimal or ZERO lag is TOTALLY guaranteed.
The best KeyBoards :
All MacBooks Do not have retina resolution, only the newer models do and that makes them more expensive. However, literally every single MacBook produced since Steeve Jobs introduced them in 2009 have EPIC keyboard. Typing on them is literally a JOY.
I've used now about 30 laptops because my blog is mostly about a tech and it's the only thing that still blows my mind, there are very very few laptops that can match the tactile feedback despite the thinness of the MacBooks , especially the MacBook Air.
---
Best PC Laptop For Blogging
  10th gen Intel Core i5
  8GB RAM DDR4
   Intel UHD 620
  256GB PCIe NVMe SSD
  13.3" full HD IPS Nano Edge Bezel
  2.5lb
  8 hours
    No DVD Drive

At this point, you should have a rough idea of what I recommend for blogging on a laptop:
Any 17" FHD display with a Ryzen3/Core i3 + the cheapest ChromeBook you can find = 800$
Or
A premium laptop portable with a high resolution display + awesome screen + superb keyboard like the New MacBook Models = 1000$
I could end this post with those three laptops because those are the three that I specifically use to make a career out of this. I will make a post soon what software to install for blogging so be sure to bookmark this post.
Back to the topic, unfortunately the MacBook Air is expensive and most people just want one device. Luckily, there are tons of alternatives to the Air.
The Introduction of the MacBook Air & the UltraBook Revolution:
If you walked into any auditorium of bloggers, programmers, journalists before 2008, not every person in the room had a laptop because they were heavy and a hazzle to carry around.
Today, most professionals in a conference have a laptop and virtually all of them will show up with an ultrabook. After Jobs, introduced the Air, laptops have focused more and more on thinness/battery life so you'll definitely find dozens of Models similar to the MacBook Air.
The ASUS ZenBook: possibly a MacBook Air's closest rival
The ASUS ZenBook since introduction in 2016 has been trying to catch up to the thinness/power/build quality of every MacBook Air released.
Today's ASUS ZenBook, the 2020-2021 Model, is the closest one in portability thinness and (before the release of the M1 Chip) power. In fact, it's a just a bit thinner and lighter than the MacBook Air.
Display & KeyBoard:
The build quality (its full aluminium), the battery life (+10 hours) , the weight (2.5lb) and the thinness (0.7) and the keyboard is pretty much very close in quality to the MacBook Air.
The only difference is the display, it's not a retina display, there are no laptops under 1000$ with higher than FHD resolutions (with the exception of the Surface Book).
FHD+13" screen with no bezels is still enough to have plenty of space for multitasking. Other ultrabooks with the same build quality premium features are : The Surface Pro and The Dell XPS 13.
---
Best Cheap Laptop For Blogging
  AMD Ryzen 3 3200U
  4GB DDR4
   Radeon Vega 3
  128GB SSD
  15" full HD IPS
  3.97 lbs
  7 hours
    802.11 AC BlueTooh 4.0
  10/100/1000 Gigabit Ethernet LAN (RJ-45 port),  HD Webcam (1280 x 720), 1 – USB 3.1 Gen 1 Port, 2 – USB 2.0 Ports, 1 – HDMI Port with HDCP support

Lastly but not least, the most affordable option for a full blown laptop that can handle all the software you will need for blogging which is really not much more than a image editor, web browser, an spreadsheet calculator and possibly a video editor. All those are available on Windows 10 S mode.
Obviously, if you look around, you'll find thousands of cheap laptops with Windows 10S on it but if you research for days and compile a list of all your options, you'll realize you can count with one hand those with a nice CPU in it (Ryzen 3 in this one) and a full HD 15 display.
This mode in particular has a bit more than a nice CPU and a FHD display, it's also relatively thin and lightweight which means it won't be that difficult to carry around should you want to work on the road too. 

One thing that might deter you from buying it is the low RAM allocation, 4GB is low for someone who's possibly going to have +20 web browsing tabs open there's no way sugarcoat it.However, keep in mind that this model doesn't have the full version of Windows 10 on it, it's got Windows 10 S which is similar to Chrome OS: it consumes low amounts of resources. In other words, you'll be alright. 
On the other hand, if you get your hands on a free copy of Windows 10 Home and you'd like to do the upgrade then you'll definitely be better with 8GB RAM or it just won't be pleasant to blog with this model. 
---
Well the whole point of this section is to save you money by narrowing down what exactly you'll be doing with your laptop and what are the required specs for that.
Software & Activities
While this may sound trivial to long time bloggers, I bet if you are just starting you probably didn't know you will end up doing some of the following:
Some Financial Research (stock market perhaps) : Excel spreadsheets

Taking/Saving Photos and Photo Editing: Photoshop + a lot of storage.

Watching several youtube videos simultanously:  need RAM perhaps a big screen.

All Microsoft Office products for editing, tracking SEO data/emails and more: mostly excel & outlook.

Video Editing: simple cuts/transitions/light effects, nothing heavy. Not necessarily Adobe premiere even movie maker might be suffficient.
So we have three types of bloggers:
Video Blogger: Someone who relies on Adobe Premiere. But these guys usually hire video editors or limit themselves to simple cuts/edits/transitions not heavy video editing. So a mid range laptop is sufficient.
1. Regular Blogging
This is just web browsing,  making posts & watching youtube. Sure these can be done on any cheap old laptop…
But…
The problem starts when you start making huge posts (these are the ones that will get you more backlinks & shares because they're actually useful).
These posts include a lot of freaking images, several links and tables/graphs to make everything neatly organized and easy to understand. Here's an example, my most shared & useful post: 
Do you know how much I suffered just trying to scroll down with the WordPress Editor?
RAM
This is caused by bottlenecking RAM. Besides, chrome is very very memory hungry, the worst of all web browsers. So at the very least you need 8GB RAM.
Forget those newbs saying 4GB is plenty for blogging. Windows 10 today takes 2GB, bloatware and other ongoing applications may take up 1GB which leaves 1GB to spare. 
Multitasking (web browsing + word editing + youtube)
Sure this can be done with any cheap old laptop with 4GB of RAM. If you are using a word editor like google docs or Microsoft Word, then you can safely rely on 4GB RAM.
Just remember the moment you add Chrome + WordPress Editor into the mix, you'll need at least 8GB RAM.
Storage
Solid Storage Drive
You should really try to break the piggy bank and opt for an SSD. You won't be reading any large files/huge software or writing large files either but an SSD will make your computer fly anyways:
Boot up in seconds

Look up a file instantly (before you even finish typing its name or a word of its content)

Open up office, launch Chrome and any other apps in a flash
You'll be doing all of these things on a constant basis, seconds will add to minutes and minutes to hours spent less on a publishing content. 
A few more advantages:
Less chances of hard drive failure. Since there are no mechanical parts, you won't damage your storage drive as easily as you would with an old hard disk drive.

Less heat issues: again no moving parts, less energy being spent less chances to having a nice tan on your laptop after a long post.
CPU
Just making posts doesn't require any beefy CPU. If you have enough RAM & an SSD, you can settle with pretty much any processor.
Yes, even if you do plan to build your website from the bottom up. Web programming with HTML, PHP, MySQL, etc, do not need any special processor.
The maximum should go for is an Intel Core i5 processor either from the 7th or the 8th generation
2. Photo Editing
I ain't gonna lie, I needed to do some pretty heavy image editing with PhotoShop for my most popular posts. Yes, I did not want to pay someone because like most bloggers I was broke when I started plus it's hard to describe exactly what you want to someone else, the best person to do the work you want is you!
Anyways for the image I was creating I needed to have tons of layers because I was a compelte newb with photoshop and that's how I editted my images, a complete mess of layers but hey it worked!
I also included many logos/small GIF images all mashed together within the same graph, it was an infograph after all.
It wasn't difficult really, some youtube videos and messing around with PhotoShop will get you there.
RAM 
8GB of RAM: Anyways, likewise the main issue would be RAM. At the very least 8GB RAM for any type of decent photo editing be it with PhotoShop or LightRoom.
16GB of RAM: If you are an avid photographer and deal with several dozens of images at the same time with LightRoom or you use Panoramas as the featured image on your posts and of course you edit them, then you'll need 16GB RAM.
4GB of RAM: If you are limited to resizing, simple edits, crops and so on, then you don't need to go beyond 4GB RAM unless you do deal with heavy & very long posts like the ones shown on the home page of this site.
Storage

If you are a avid photo editor, an SSD is a must, no buts. Check my post on photoshop for more details.
CPU

How fast you edit images, and by this I mean applying effects and layers, colors, only depend on how fast your processor is. By that i mean clock speed and not how many cores your processor has.
Long story short, you just need the CPU with the highest clock speed you can afford: Core i3 Core i5 or Core i7. 
8th generation processors however are all fast so any of their models will suffice.
3. Video Editing
Most bloggers just use the youtube editor, some may use iMovie and Windows Movie maker. 
If you will rely on any of the above, you don't need any special hardware. 
If you rely on simple jump-cuts/transitions/effects with Adobe Premiere you don't need anything special either. Just get the same specs for Photo Editing:
Any late generation CPU

8GB RAM

Solid State Drive
Heck even if you are a vBlogger using a green background to throw in cool effects, the same specs will apply.
However..
If you plan on becoming an avid user of Adobe Premiere, that is you'll  rely on a lot of accelerated effects+ editting in high resolution (w/ color grading+3D effects) or edit/shoot videos with 4k resolution, then give my Adobe Premiere article a read, you'll need far more power than the laptops shown here and portability will go out the window.
4. Specs for All Bloggers
Display
Resolution: No matter what kind of blogger you are. Get at least a 1920×1080 resolution display. This is also called full HD or 1080p.
This will allow you to have several windows next to each other simultaneously and give you enough space to work on each of them.
This is what I mean, look at the difference: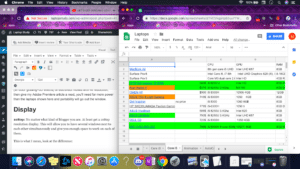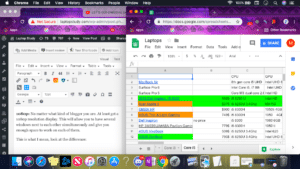 Check how much more space there's on the left for excel.
Size: A high resolution display coupled with anything +13"  will allow you to have even more space, perhaps let you fit it another window. The screenshot I took was with my 11" MacBook Air so you can imagine the difference with a 13" display.
Again this will depend on how portable you want your device to be. If you are a travel blogger like me, then 11-13" is our only choice.
If you just stay at home, a 17" full HD is the best ! Which by the way I have one back home instead of a desktop.
IPS vs TN
IPS displays: the best IPS screens have great color reproduction & look best, they may be useful if you are a very picky photo editor and colors accuracy is very important to you. I think if they were, you'd be better off with an external display which is x20 times better than any laptop display out there. The problem with IPS displays their glossy finish which makes it very difficult to use when a lot of light hits the screen.
TN displays: these don't look as good but they're anti-glare, their finish isn't glossy so you'll be able to work in high illuminated areas and even out in the sun.
Matte displays: some IPS panels come with a matte finish so you'll get a better color reproduction (not as good as glossy IPS panels) while being able to deal with glares much better
I myself reduce brightness, use screen protectors or rely on nightshift mode to reduce the amount of light reaching my eyes.
Although I'm pretty much on the computer all day, my eyesight is still 20/20.
I also owe that to my carrot addiction & taking breaks every 30 min or so (looking out the window for 5 min or so will keep your eyes fresh and rested).
Update: currently suffering dry eye from a medication. I feel a bit better using a 17" display with a matte display than glossy macbook air. 
KeyBoard
I tried hitting my fastest typing speeds on a laptop keyboard and a desktop keyboard.
The result: I was never able to replicate the same feeling nor the same typing speeds with a laptop's keyboard so I bought an external keyboard and typing faster than jackie chan with the tuxed on.
Design
The main issue with laptops is that manufacturers only focus on specs especially CPU & graphics cards. Why? because that's what most naive consumers care aboout and look at, leaving design to draw and luck so if you don't do your proper research you can end up with a lousy keyboard & trash touchpad quality.
Some brands however do care about their design just as much as their components: Apple being the most known for their flawless designs followed by Lenovo.

For any other brand you have to rely on amazon reviews and reddit to see if there are any faults with the keyboard. LaptopMag and NotebookCheck will give you a more technical & useful description however they can't test every laptop out there.

If you find a laptop you like and there isn't anything to say about their keyboards, don't risk it. Look for another one.

Usually anything equal or below 13" will be more likely to have a bad keyboard.
I don't worry too much about keyboard quality when buying a new laptop unless it's a chromebook or a 11" laptop. Why? I always use an external keyboard & mouse too. I move faster using these two.
Portability
Ultra portable laptops are awesome but expensive.
Anything around ~3lb is considered portable and easy to carry. But if they carry the specs I recommended above they'll cost you at least 700$. 
Chromebooks are portable and cost less than 13" but you'll be limited to a web browser, this may work out if you don't need any fancy photo/video/image editing.
There are a few 11 inch laptops that cost a few hundred  but you'll have to deal with limited screen space for writing and most of the time 4GB RAM and very slow processors:
| | |
| --- | --- |
| Display | Weight |
| 11" | 2lb |
| 13" | 3lb |
| 15" | 4lb-5lb |
| 17" | 6lb-10lb |
Battery
There's a good rule of thumb among laptops: the smaller the laptop, the bigger the battery.
That's because small size laptops usually have weaker processors and low resolution displays coupled with small screen sizes , this means less pixels, less power consumption for operations and therefore more battery life! 
ChromeBooks: they have the longest batteries out there, most of them have a solid 11 hours.
MacBooks: they're amazing. Despite their power, they have around 10 hours of battery life. The old MacBook Air had around 13 freaking hours.
Lenovo: they put in huge batteries in their ThinkPad or Business models. They can be as long as 10 hours.
The way I deal with this is use my chromebook or 11 MacBook Air when I'm away from home and use my Acer Aspire 17" laptop for the final touch ups or any image/video editing I may need to do. I also use it to play games, run heavy software that i need to learn to write my reviews.
Wifi

NetWork Card
Like I said before , unlike Apple or Lenovo, most manufacturers just leave design to draw & luck. Some of their models (though very few) will have their network cards incorrectly positioned which leads to drop outs or your laptop's reception to be weak (for which you have to be much closer to your router ).
The only way to find out any faults is to read user reviews. All the laptops I've listed here do not have this problem.
Comments? 
If you have any questions, suggestions or recommendations for this post. Please let us know in the comments below!